FILM ACTING CREDITS (short list):
PRISONER OF SECOND AVENUE with Jack Lemmon, Anne Bancroft
Gary Owens and I did the Voice-Over Newscasts in this Neil Simon comedy!
Tap here to listen to one of my three mini-newscasts from that film.
---
SHARKEY'S MACHINE with Burt Reynolds
MADE IN HEAVEN Timothy Hutton & Kelly McGillis
FUN WITH DICK AND JANE with George Segal & Jane Fonda
---
Television Films: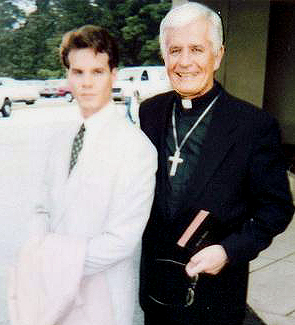 A Season In Purgatory CBS
With Craig Sheffer while shooting Season In Purgatory. I played a Catholic Cardinal.
My brother's advice? "Keep the ring!"
I'll Fly Away NBC
In The Heat of the Night CBS
Savannah WB
One Terrific Guy CBS
PLUS:
"DEFINITION" - Hosted the pilot for Canada's Game Show
THE TRAVEL CHANNEL Infomercial
COMDEX Anchored in-house TV coverage in Las Vegas and Atlanta!